Tip
Swipe om te navigeren naar een ander hoofdstuk
2002 | OriginalPaper | Hoofdstuk
10. Overtraining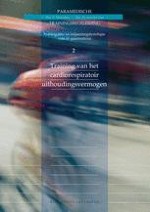 eerste hoofdstuk lezen
Auteur: H. Kuipers
Uitgeverij: Bohn Stafleu van Loghum
Log in om toegang te krijgen
Met onderstaand(e) abonnement(en) heeft u direct toegang:
Aagvaag, A. & Opstad, P.K. (1985). Hormonal response to prolonged physical strain, effect of caloric deficiency and sleep deprivation. In: F. Fotherby & S.B. Pal (Eds),
Exercise endocrinology
(p. 25–64). Berlijn: De Gruyter.
Barron, G.L., Noakes, T.D., Levy, W., Smith, C. & Millar, R.P. (1985). Hypothalamic dysfunction in overtrained athletes.
J. Clin. Endocrinol. Metabol.
60(4), 803–806.
CrossRef
Frey, A.C. & Kraemer, W.J. (1998). Resistance exercise overtraining and overreaching.
Sports Med 23
(2), 106–129.
CrossRef
Hakkinen, K. & Alen, M. (1989). Training volume, androgen use and serum creatine kinase activity.
Br. J. Sports Med.
23(3), 188–189.
PubMedCentral
CrossRef
PubMed
Kelly, F.J., McGrath, J.A., Goldspink, D.F. & Cullen M.J. (1986). A (morphological/biochemical study on the actions of corticosteroids on rat skeletal muscle.
Muscle & Nerve 9
, 1–10.
CrossRef
Kuipers, H., & Hesselink, M.K.C. (2001). Zonder spierpijn op weg naar goud.
Nat. & Techn.
69(12), 46–51.
Kurowski, T.T., Chatterton, R.T. & Hickson, R.C. (1984). Countereffects of compensatory overload and glucocorticoids on skeletal muscle: androgen and glucocorticoid cytosol receptor binding.
J. Ster. Bioch. 21
, 137–145.
CrossRef
MacLaren, D.P., Gibson, H., Parry-Billings, M. & Edwards R.H.T. (1989). A review of metabolic and physiological factors in fatigue. In: K.B. Pandolf (ed.),
Exercise and sport sciences reviews
(vol.17, p. 29–66). Baltimore, London: Williams & Wilkins.
Mellerowicz, H. & Barron, D.K. (1971). Overtraining. In: L.A. Larson (ed),
Encyclopedia of sports sciences and medicine
(p. 1310–1312). New York: Mac Millan.
Morgan, W.P., Brown, D.R., Raglin, J.S., O'Connor, P.J. & Ellickson, K.A. (1987). Psychological monitoring of overtraining and staleness.
Brit. J. Sports Med. 21
(3), 107–114.
CrossRef
Rawbottom, D.G., Keast, D., Goodman, C. & Morton, A.R. (1995). The haematological, biochemical and immunological profile of athletes suffering from the overtraining syndrome.
Eur. J. Appl. Physiol. 70
, 502–509
CrossRef
Snyder, A.C. & Foster, C. (1994). Physiology and nutrition for skating. In: D.R. Lamb, H.G. Knuttgen & R. Murray (eds),
Perspectives in exercise. Science and sports medicine
(p.181-219). Carmel, IN: Cooper publishing group.
Urhausen, A. & Kindermann, W. (2002). Diagnosis of overtraining, what tools do we have?
Sports Med. 32(2)
, 96
–
102.
CrossRef
Viru, A. (1985a).
Hormones in muscular activity. Vol. I Hormonal assembly in exercise.
Boca Raton: CRC press Inc.
Viru, A. (1985b).
Hormones in muscular activity. Volume II: Adaptive effect of hormones in exercise.
Boca Raton: CRC press Inc.
Viru, A. (1994). Molecular cellular mechanisms of training effects.
J. Sports Med. Phys. Fitness 34
, 309–314.
PubMed
Titel

Overtraining

DOI

https://doi.org/10.1007/978-90-313-9599-6_10

Auteur:

H. Kuipers


Uitgeverij

Bohn Stafleu van Loghum

Volgnummer

10

Hoofdstuknummer

10