01-08-2020 | Review Article | bijlage 1/2020 Open Access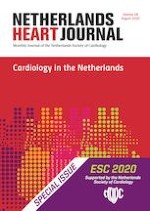 Cardiogenetics, 25 years a growing subspecialism
Tijdschrift:
Auteurs:

A. A. M. Wilde, E. Nannenberg, C. van der Werf
Abstract
The cardiology and clinical genetics subspecialty of cardiogenetics has experienced a tremendous growth in the past 25 years. This review discusses examples of the progress that has been made as well as new challenges that have arisen within this field, with special focus on the Netherlands. A significant number of Dutch founder mutations, i.e. mutations shared by a number of individuals who have a common origin and all share a unique chromosomal background on which the mutation occurred, have been identified and have provided unique insights into genotype-phenotype correlations in inherited arrhythmia syndromes and inherited cardiomyopathies.
Cardiological and genetic screening of family members of young victims of sudden cardiac death combined with genetic testing in the deceased individual have turned out to be rewarding. However, the interpretation of the results of genetic testing in this setting and in the setting of living patients with a (suspected) phenotype is now considered more challenging than previously anticipated, because the introduction of high-throughput sequencing technologies has resulted in the identification of a significant number of variants of unknown significance. Interpretation of genetic and clinical findings by experienced multidisciplinary teams are key to ensure a high quality of care to the patient and the family.