01-08-2020 | Review Article | bijlage 1/2020 Open Access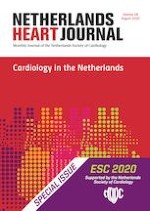 Defibrillation testing during implantation of the subcutaneous implantable cardioverter-defibrillator: a necessary standard or becoming redundant?
Tijdschrift:
Auteurs:

W. van der Stuijt, A. B. E. Quast, R. E. Knops
Abstract
Since the publication of the SIMPLE and NORDIC trials, defibrillation testing (DFT) is rarely performed during routine implantation of transvenous implantable cardioverter-defibrillators (ICD). However, the results of these trials cannot be extrapolated to the later introduced subcutaneous ICD (S-ICD) and a class I recommendation to perform DFT during the implantation of these devices remains in the current guidelines. Due to the high conversion success rate of DFT on one hand, and the risk of complications on the other, a significant number of physicians omit DFT in S‑ICD recipients. Several retrospective analyses have assessed the safety of the omission of DFT and report contradicting results and recommendations. It is known that implant position, as well as device factors and patient characteristics, influence defibrillation success. A better comprehension of these factors and their relationship could lead to more reliable and safer alternatives to DFT. An ongoing randomised clinical trial, which is expected to end in 2023, is the first study to implement a method that assesses implant position to identify patients who are likely to fail their DFT.