01-08-2020 | Review Article | bijlage 1/2020 Open Access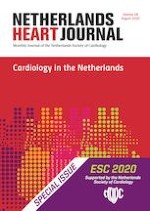 Antithrombotic management of patients with atrial fibrillation—Dutch anticoagulant initiatives anno 2020
Tijdschrift:
Auteurs:

G. Chu, J. Seelig, E. M. Trinks-Roerdink, G. J. Geersing, F. H. Rutten, J. R. de Groot, M. V. Huisman, M. E. W. Hemels
Belangrijke opmerkingen
M. V. Huisman and M. E. W. Hemels are joint last authors.
Abstract
In recent years, as more and more experience has been gained with prescribing direct oral anticoagulants (DOACs), new research initiatives have emerged in the Netherlands to improve the safety and appropriateness of DOAC treatment for stroke prevention in patients with atrial fibrillation (AF). These initiatives address several contemporary unresolved issues, such as inappropriate dosing, non-adherence and the long-term management of DOAC treatment. Dutch initiatives have also contributed to the development and improvement of risk prediction models. Although fewer bleeding complications (notably intracranial bleeding) are in general seen with DOACs in comparison with vitamin K antagonists, to successfully identify patients with high bleeding risk and to tailor anticoagulant treatment accordingly to mitigate this increased bleeding risk, is one of the research aims of recent and future years. This review highlights contributions from the Netherlands that aim to address these unresolved issues regarding the anticoagulant management in AF in daily practice, and provides a narrative overview of contemporary stroke and bleeding risk assessment strategies.