01-09-2010 | Brief Report | Uitgave 9/2010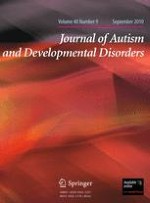 Brief Report: Glutamate Transporter Gene (
SLC1A1)

Single Nucleotide Polymorphism (rs301430) and Repetitive Behaviors and Anxiety in Children with Autism Spectrum Disorder
Tijdschrift:
Auteurs:

Kenneth D. Gadow, Jasmin Roohi, Carla J. DeVincent, Sarah Kirsch, Eli Hatchwell
Abstract
Investigated association of single nucleotide polymorphism (SNP) rs301430 in glutamate transporter gene (
SLC1A1
) with severity of repetitive behaviors (obsessive–compulsive behaviors, tics) and anxiety in children with autism spectrum disorder (ASD). Mothers and/or teachers completed a validated DSM-IV-referenced rating scale for 67 children with autism spectrum disorder. Although analyses were not significant for repetitive behaviors, youths homozygous for the high expressing C allele had more severe anxiety than carriers of the T allele. Allelic variation in
SLC1A1
may be a biomarker for or modifier of anxiety symptom severity in children with ASD, but study findings are best conceptualized as tentative pending replication with larger independent samples.