01-01-2016 | Nascholing | Uitgave 1/2016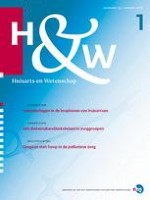 Body dysmorphic disorder
Tijdschrift:
Auteurs:

Julia Klatte, dr. Nienke Vulink, Patrick Kemperman
Belangrijke opmerkingen
AMC, afdeling Dermatologie, Meibergdreef 9, 1105 AZ, Amsterdam: J.L. Klatte, aios dermatologie; P.M.J.H. Kemperman, dermatoloog. AMC, afdeling Psychiatrie, Amsterdam: dr. N.C. Vulink, psychiater. Waterlandziekenhuis, afdeling Dermatologie, Purmerend: P.M.J.H. Kemperman, dermatoloog • Correspondentie: psychodermatologie@amc.nl • Mogelijke belangenverstrengeling: niets aangegeven.
Samenvatting
Klatte JL, Vulink NC, Kemperman PMJH. Body dysmorphic disorder. Huisarts Wet 2016;59(1):20-3.
Body dysmorphic disorder (BDD) is een psychiatrische aandoening waarbij de patiënt obsessief bezig is met een minimaal of niet bestaand defect van het uiterlijk. Deze patiënten zijn gepreoccupeerd met een afwijking van bijvoorbeeld de huid, het haar of de neus, terwijl een ander de afwijking niet of nauwelijks ziet. De preoccupatie kan ernstig lijden en suïcidaliteit tot gevolg hebben. De patiënten komen meestal bij een dermatoloog of plastisch chirurg terecht, die deze stoornis vaak niet herkent. Invasieve interventies (operatief ingrijpen, laserbehandelingen) kunnen echter een negatieve uitkomst hebben. Het stellen van enkele screenende vragen kan de kans op detectie van BDD vergroten. Selectieve serotonineheropnameremmers of cognitieve gedragstherapie zijn effectief gebleken als behandeling. Vroege herkenning en juiste verwijzing zijn daarom belangrijk, een multidisciplinaire aanpak kan hierbij zinvol zijn.