01-10-2016 | Beschouwing | Uitgave 10/2016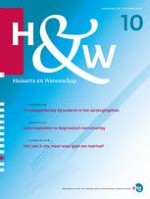 Behandeling van hypertensie bij de oudste ouderen
Tijdschrift:
Auteurs:

dr. Rosalinde Poortvliet, dr. Wouter de Ruijter, prof.dr. Jacobijn Gussekloo
Belangrijke opmerkingen
LUMC, afdeling Public Health en Eerstelijnsgeneeskunde, Postbus 9600, 2300 RC Leiden: dr. R.K.E. Poortvliet, huisarts-onderzoeker; dr. W. de Ruijter, huisarts-onderzoeker (tevens wetenschappelijk medewerker bij het Nederlands Huisartsen Genootschap, Utrecht); prof.dr. J. Gussekloo, hoogleraar Eerstelijnsgeneeskunde • Correspondentie: r.k.e.poortvliet@lumc.nl• Mogelijke belangenverstrengeling: niets aangegeven.
Deze beschouwing is gebaseerd op het proefschrift: Poortvliet RKE. New perspectives on cardiovascular risk prediction in old age. Leiden: LUMC, 2015.
Samenvatting
Poortvliet RKE, De Ruijter W, Gussekloo J. Behandeling van hypertensie bij de oudste ouderen. Huisarts Wet 2016;59(10):443-6.
De prevalentie van hypertensie is het hoogst in de oudere populatie, maar juist bij die oudere patiënten zijn nut en noodzaak van het monitoren van de bloeddruk en de behandeling van hoge bloeddruk onduidelijk. In deze beschouwing bespreken we bloeddruk als risicofactor en gaan we in op de effectiviteit van preventieve behandeling van hoge bloeddruk bij de oudste ouderen. Het adagium 'hoe lager, hoe beter' gaat bij oudste ouderen zeker niet altijd op. Uit observationele onderzoeken blijkt een lage en dalende bloeddruk samen te hangen met een hogere sterfte, ook als er geen sprake is van manifest hartfalen. Kwetsbaarheid of biologische leeftijd speelt mogelijk een rol in deze 'omkering van de risicovoorspelling'. Het wetenschappelijk bewijs voor een gunstig effect van behandeling van hoge bloeddruk bij ouderen is niet eenduidig. Bij gezonde ouderen lijkt een bloeddrukverlagende behandeling effectief; echter: hoe kwetsbaarder, hoe minder effectief. Er past hier dus geen 'one-size-fits-all'-beleid. Een streefwaarde van 150/80 mmHg, of mogelijk nog lager, lijkt aan te raden voor de 'gezonde' oudere patiënt, zoals de deelnemers uit de gerandomiseerde onderzoeken. Naarmate een patiënt kwetsbaarder is, meer fysieke beperkingen heeft en biologisch ouder wordt ingeschat, zouden wij juist terughoudender moeten zijn met de indicatie voor bloeddrukverlagende behandeling, en is bij behandeling de streefwaarde van de bloeddruk hoger.