01-12-2017 | ORIGINAL PAPER | Uitgave 4/2018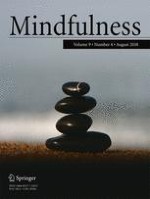 Associations Between Early Maladaptive Schemas and Mindful Attention-Awareness
Tijdschrift:
Auteurs:

Niko Flink, Sanna Sinikallio, Matti Kuittinen, Petri Karkkola, Kirsi Honkalampi
Abstract
Several authors have recently suggested the integration of mindfulness and mindfulness-based interventions into the schema therapy framework due to practical and theoretical compatibilities between these approaches. Preliminary research has demonstrated negative correlations between mindful attention-awareness and early maladaptive schemas, a key construct in schema therapy. However, little is known about the associations between early maladaptive schemas and mindfulness, particularly which specific early maladaptive schemas are related to mindful attention-awareness. This study examined the relationship between early maladaptive schemas, assessed with the Young Schema Questionnaire Short Form—Extended (YSQ-S2-Extended), and mindful attention-awareness, assessed with the Mindful Attention Awareness Scale (MAAS), in a community sample of Finnish adults (
N
= 215). Findings demonstrated that 17 out of 18 early maladaptive schemas were negatively correlated with mindful attention-awareness. In addition, three early maladaptive schemas, characterized by lack of self-control and avoidance of thoughts and emotions, were significantly related to low mindful attention-awareness in the linear regression. This study provides further empirical support for proposed associations between the presence of maladaptive cognitive schemas and a low ability to focus attention on experiences in the present in a mindful way. Future research is needed to study whether mindfulness-based interventions are beneficial in observing or reducing early maladaptive schemas and maladaptive coping strategies associated with them.