08-12-2017 | ORIGINAL PAPER | Uitgave 4/2018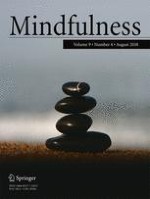 Interpersonal Mindfulness: Investigating Mindfulness in Interpersonal Interactions, co-Rumination, and Friendship Quality
Tijdschrift:
Auteurs:

Steven D. Pratscher, Amanda J. Rose, Louis Markovitz, Ann Bettencourt
Belangrijke opmerkingen
Electronic supplementary material
Abstract
There is growing interest in understanding the ways in which mindfulness influences interpersonal relationships. Two studies investigated the relationship between a newly proposed construct, interpersonal mindfulness, and the quality of a best or close friend. Interpersonal mindfulness is conceptualized as mindfulness during interpersonal interactions and includes awareness of self and others, accompanied with the qualities of nonjudgmental and nonreactive presence. Study 1 showed that interpersonal mindfulness was correlated with friendship quality, while accounting for trait mindfulness. Study 2 replicated and extended these findings by identifying and testing three possible mediators (i.e., perspective taking, basic psychological need satisfaction, and empathy) of the association between interpersonal mindfulness and friendship quality. Interrelations with co-rumination, or excessive talk about problems, were examined as well. Investigation of the psychometrics of the interpersonal mindfulness scale provided initial support for the reliability and validity. Results suggest that (1) interpersonal mindfulness is uniquely associated with the
interpersonal
outcome of friendship quality (controlling for trait mindfulness), whereas trait mindfulness is uniquely associated with the
intrapersonal
outcomes of depression and anxiety (while controlling for interpersonal mindfulness), (2) interpersonal mindfulness moderates the association of co-rumination and friendship quality, and (3) the association of interpersonal mindfulness and friendship quality is mediated by perspective taking and psychological need satisfaction. Limitations and future directions, as well as potential applied applications, are discussed.