14-06-2017 | Original Article | Uitgave 2/2018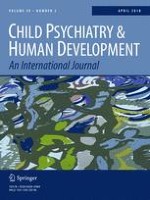 Anxiety Sensitivity Moderates the Relation Between Family Accommodation and Anxiety Symptom Severity in Clinically Anxious Children
Tijdschrift:
Auteurs:

Jessica L. Schleider, Eli R. Lebowitz, Wendy K. Silverman
Abstract
High levels of family accommodation (FA), or parental involvement in child symptoms, are associated with child anxiety symptom severity. The strength of associations has varied across studies, however, highlighting the need to identify moderating variables. We investigated whether anxiety sensitivity (AS) moderated the FA-anxiety symptom severity association in clinically anxious children (N = 103, ages 6–17; mean age 11.07 years). We collected child and mother ratings of FA, child anxiety symptom severity, and child AS ratings. AS significantly moderated the FA-child anxiety severity link. Specifically, this link was significant for low
-
AS but not high-AS children. Findings suggest that FA may operate in the typically observed fashion for low-AS children—alleviating immediate distress while inadvertently exacerbating longer-term anxiety—whereas high-AS children may experience distress following anxiety-provoking stimuli regardless of FA. Assessing AS in research and clinical settings may help identify subsets of children for whom FA is more closely tied to anxiety severity.