01-02-2012 | Original Article | Uitgave 1/2012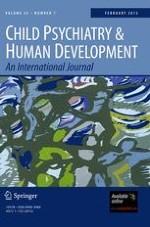 Anxiety and Reading Difficulties in Early Elementary School: Evidence for Unidirectional- or Bi-Directional Relations?
Tijdschrift:
Auteurs:

Amie E. Grills-Taquechel, Jack M. Fletcher, Sharon R. Vaughn, Karla K. Stuebing
Abstract
The present study examined competing models of the bi-directional influences of anxiety and reading achievement. Participants were 153 ethnically-diverse children (84 male, 69 female) from general education classes evaluated in the winter and spring of their first-grade academic year. Children completed standardized measures of reading achievement involving decoding and fluency along with an anxiety rating scale. Hierarchical linear regression analyses revealed that separation anxiety symptoms were negatively predicted by fluency performance and harm avoidance symptoms were positively predicted by decoding performance. Fluency performance was positively predicted by harm avoidance and total anxiety (for girls only) symptoms, while decoding was not predicted by any anxiety subscale.