09-10-2017 | ORIGINAL PAPER | Uitgave 3/2018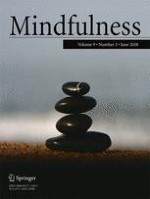 A Test of the Association Between Mindfulness Subcomponents and Diurnal Cortisol Patterns
Tijdschrift:
Auteurs:

Andrew W. Manigault, Wilson S. Figueroa, Cari R. Hollenbeck, Anna E. Mendlein, Alex Woody, Samantha E. Sinegar, Katrina R. Hamilton, Matt C. Scanlin, Ryan C. Johnson, Peggy M. Zoccola
Abstract
The relationship between mindfulness (i.e., monitoring present experiences with acceptance) and diurnal cortisol has been the subject of growing interest. However, no studies have examined how distinct mindfulness subcomponents of awareness and acceptance may independently or interactively predict diurnal cortisol rhythms. As such, the present project aimed to test the relationship between self-reported mindful awareness and acceptance, and diurnal cortisol in a sample of sexual minority young adults (SMYA). As part of a larger project examining the health of SMYA, 121 SMYA, free of major psychiatric and endocrine disorders, completed an initial survey and daily evening questionnaires for 1 week. A randomly selected subset (
n
= 58) also provided salivary cortisol samples at wake, 45-min post-wake, 12-h post-wake, and at bedtime over 7 days. Dispositional mindfulness was measured using the Five Facet Mindfulness Inventory-Short Form at the beginning of the study. Greater trait mindful awareness was associated with a smaller cortisol awakening response. In contrast, greater trait mindful acceptance was associated with a more robust cortisol awakening response and a sharper decrease in the evening. Distinguishing between mindful awareness and acceptance may be especially important for predicting diurnal cortisol rhythms and associated outcomes. These findings provide critical insight to researchers evaluating physiological outcomes associated with mindfulness.