01-06-2016 | Original Article | Uitgave 3/2016 Open Access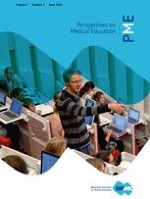 A collaborative clinical and population-based curriculum for medical students to address primary care needs of the homeless in New York City shelters
Teaching homeless healthcare to medical students
Tijdschrift:
Auteurs:

Ramin Asgary, Ramesh Naderi, Margaret Gaughran, Blanca Sckell
Abstract
Background Millions of Americans experience homelessness annually. Medical providers do not receive adequate training in primary care of the homeless.
Methods Starting in 2012, a comprehensive curriculum was offered to medical students during their family medicine or ambulatory clerkship, covering clinical, social and advocacy, population-based, and policy aspects. Students were taught to: elicit specific social history, explore health expectations, and assess barriers to healthcare; evaluate clinical conditions specific to the homeless and develop plans for care tailored toward patients' medical and social needs; collaborate with shelter staff and community organizations to improve disease management and engage in advocacy efforts. A mixed methods design was used to evaluate students' knowledge, attitudes, and skills including pre- and post-curriculum surveys, debriefing sessions, and observed clinical skills.
Results The mean age of the students (
n
= 30) was 26.5 years; 55 % were female. The overall scores improved significantly in knowledge, attitude, and self-efficacy domains using paired t‑test (
p
< 0.01). Specific skills in evaluating mental health, substance abuse, and risky behaviours improved significantly (
p
< 0.05). In evaluation of communication skills, the majority were rated as having 'outstanding rapport with patients.'
Conclusions Comprehensive and ongoing clinical component in shelter clinics, complementary teaching, experienced faculty, and working relationship and collaboration with community organizations were key elements.