2016 | OriginalPaper | Hoofdstuk
5 Pedagogisch perspectief in de kinderfysiotherapie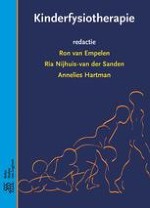 eerste hoofdstuk lezen
Auteurs: Marian J. Jongmans, M. J. M. Volman
Uitgeverij: Bohn Stafleu van Loghum
Samenvatting
Het screenen, diagnosticeren en therapeutisch handelen bij kinderen met een motorische beperking kan niet gebeuren zonder rekening te houden met de omgeving waarin het kind opgroeit. Met name voor heel jonge kinderen (0-4 jaar) en kinderen in de basisschoolleeftijd wordt deze omgeving gevormd door het gezin. Een stimulerende (thuis)omgeving en relaties zijn van vitaal belang voor de groei, ontwikkeling en het leren van kinderen. Er hebben in de afgelopen jaren twee belangrijke ontwikkelingen plaatsgevonden in het denken rondom de zorg voor kinderen met een motorische beperking die het belang van het rekening houden met de context waarin het kind opgroeit extra benadrukken. Ten eerste is, zoals uiteengezet in hoofdstuk 1, onder invloed van de International Classification of Functioning, Disability and Health for Children and Youth (ICF-CY) de nadruk komen te liggen op het realiseren van behandeldoelen op het niveau van activiteiten en participatie op gezins- en maatschappelijk niveau.
1
In de ICF-CY-terminologie zijn ouders en kinderfysiotherapeut onderdeel van de externe factoren en is de opvoeding c.q. behandeling die het kind ervaart, onderdeel van de persoonlijke factoren die het functioneren van een kind beïnvloeden. Ten tweede is in de evolutie van de relatie tussen therapeut en ouder al sinds enige tijd het natuurlijke punt bereikt dat ouders én kinderen meer betrokken (willen) worden bij het bepalen en realiseren van behandeldoelen.
2
Dit wordt ook wel aangeduid met de term
family-centered services,
of een gezinsgerichte benadering van de zorg. Deze ontwikkelingen hebben rechtstreeks gevolg voor het pedagogisch handelen van de kinderfysiotherapeut. Met andere woorden: er wordt van de kinderfysiotherapeut verwacht dat hij oog heeft voor het opvoedingsproces waarin kind en ouders verkeren en dat hij zijn eigen handelen hier vervolgens op afstemt.