2016 | OriginalPaper | Hoofdstuk
36 Oncologie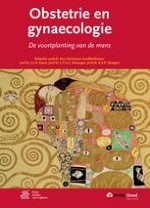 eerste hoofdstuk lezen
Auteurs: prof.dr. M.J. Heineman, prof.dr. J.L.H. Evers, prof.dr. L.F.A.G. Massuger, prof.dr. E.A.P. Steegers
Uitgeverij: Bohn Stafleu van Loghum
Samenvatting
Kanker van de vrouwelijke geslachtsorganen is een verzamelnaam voor een aantal zeer verschillende ziektebeelden die zowel qua preventie als qua behandeling en prognose zeer verschillen. Het merendeel van de vrouwen dat door genitale kanker getroffen wordt, is al wat ouder. Sommige ovariumtumoren en een deel van de cervixcarcinomen worden ook op jeugdiger leeftijd gezien.
In dit hoofdstuk worden de verschillende genitale maligniteiten systematisch besproken. Methoden voor detectie van de afwijking in een premaligne fase en het vroeg optreden van klachten leiden ertoe dat patiënten in een vroeg stadium behandeld kunnen worden en dus een goede kans hebben om te genezen, bijvoorbeeld bij cervix-, vulva- en corpuscarcinoom. Voor patiënten met een maligniteit waarbij dit niet het geval is, is de prognose meestal slecht, bijvoorbeeld bij ovarium- en tubacarcinoom. Voor alle genitale maligniteiten, met uitzondering van trofoblasttumoren, is de primaire behandeling chirurgisch. Bij trofoblasttumoren is chemotherapie de hoeksteen van de behandeling.
Combinatie van de chirurgische behandeling met radiotherapie en/of chemotherapie komt vaak voor. Hieruit blijkt dat gynaecologische oncologie een multidisciplinair vak is dat slechts optimaal kan worden uitgeoefend in teamverband.
Indien radicale of ultraradicale chirurgie geïndiceerd is, worden patiënten verwezen naar oncologische centra.
Kanker aan de genitalia heeft een grote invloed op het subjectief welbevinden van de patiënt. De behandeling kan soms ingrijpende gevolgen hebben voor het seksuele leven van de patiënt, op het gevoel van eigenwaarde en het zelfbeeld. Uiteraard heeft dit ook grote gevolgen voor haar partner. Hulpverleners dienen hierop vanaf het begin van de behandeling gespitst te zijn. Zo nodig dient voor dit aspect adequate hulpverlening georganiseerd te worden.
Een belangrijk deel van de oncologische zorg betreft vrouwen die niet meer van hun ziekte te genezen zijn. Zij zijn chronisch ziek en hebben optimale palliatieve zorg nodig. Deze zorg kan vaak goed door de specialist in samenwerking met de huisarts en de wijkverpleging of thuiszorg gegeven worden.