18-11-2017 | ORIGINAL PAPER | Uitgave 4/2018 Open Access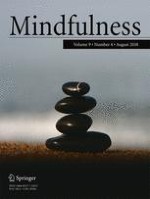 Which Facets of Mindfulness Protect Individuals from the Negative Experiences of Obsessive Intrusive Thoughts?
Tijdschrift:
Auteurs:

Lisa-Marie Emerson, Connor Heapy, Gemma Garcia-Soriano
Abstract
Obsessive intrusive thoughts (OITs) are experienced by the majority of the general population, and in their more extreme forms are characteristic of obsessive–compulsive disorder (OCD). These cognitions are said to exist on a continuum that includes differences in their frequency and associated distress. The key factors that contribute to an increased frequency and distress are how the individual
appraises
and
responds
to the OIT. Facets of mindfulness, such as nonjudgment and nonreactivity, offer an alternative approach to OITs than the negative appraisals and commonly utilised control strategies that often contribute to distress. Clarifying the role of facets of mindfulness in relation to these cognitions offers a means to elucidate individual characteristics that may offer protection from distress associated with OITs. A sample of nonclinical individuals (
n
= 583) completed an online survey that assessed their experiences of OITs, including frequency, emotional reaction and appraisals, and trait mindfulness. The findings from a series of multiple regression analyses confirmed that specific facets of mindfulness relating to acting with awareness and acceptance (nonjudgment and nonreactivity) consistently predicted less frequent and distressing experiences of OITs. In contrast, the observe facet emerged as a consistent predictor of negative experiences of OITs. These findings suggest that acting with awareness and acceptance may confer protective characteristics in relation to OITs, but that the observe facet may reflect a hypervigilance to OITs. Mindfulness-based prevention and intervention for OCD should be tailored to take account of the potential differential effects of increasing specific facets of mindfulness.