01-04-2015 | Rhythm Puzzle - Question | Uitgave 4/2015 Open Access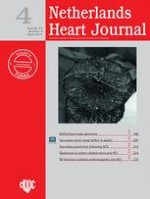 What is the Origin of the Ectopic Beat?
Tijdschrift:
A 79-year-old man visited the outpatient clinic because of precordial pain and dyspnoea during mild exercise. These symptoms started 4 weeks ago. His physical condition, so far, had been excellent and this was the first time in his life that the family doctor had referred him to a cardiologist. As medication, he used simvastatin 20 mg once daily. Physical examination revealed no abnormalities: height 1.86 m, weight 71 kg, blood pressure 120/70 mm Hg, regular pulse of 60 bpm and during auscultation of the heart he had normal heart sounds. Laboratory investigation was unremarkable: C-reactive protein> 1, haemoglobin 8.0 mmol/l, creatinine 73 µmol/l, troponin I negative, glucose 5.8 mmol/l, total cholesterol 3.0 mmol/l and LDL cholesterol 2.1 mmol/l. ...