01-11-2010 | Wetenschap | Uitgave 7/2010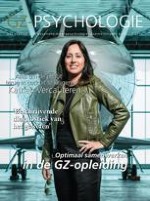 Waar dissociatie vandaan komt – het schemergebied tussen slapen en waken
Tijdschrift:
Auteurs:

D. van der Kloet, prof. dr. H.L.J.G. Merckelbach
Belangrijke opmerkingen
Auteur
Dalena van der Kloet is werkzaam als psycholoog bij de sectie Forensische Psychologie van de Universiteit Maastricht en werkt aan een proefschrift over dissociatie en slaap. Haar onderzoeksproject wordt gefinancierd door een ZonMw topsubsidie (40-001812-98-08036). Harald Merckelbach is als hoogleraar Psychologie verbonden aan dezelfde universiteit.
Correspondentieadres: Department of Clinical Psychological Science, Faculty of Psychology and Neuroscience, Maastricht University, Postbus 616, 6200 MD Maastricht; e-mail: Dalena.vanderkloet@maastrichtuniversity.nl
Samenvatting
Sommige mensen herkennen zichzelf wel eens niet wanneer ze in de spiegel kijken. Anderen vinden soms kleding in hun kast waarvan ze zich niet kunnen herinneren dat ze die gekocht hebben. Dat zijn voorbeelden van wat in jargon dissociatieve symptomen worden genoemd. Van dissociatie is sprake als bewustzijn, geheugen en emotie niet langer in de pas lopen.
Dissociatie blijkt samen te hangen met slaapverstoringen. We zullen in dit artikel bespreken hoe droomachtige belevingen zich aan het wakende bewustzijn kunnen opdringen, wat kan leiden tot dissociatieve symptomen. Het zal duidelijk worden dat slaap op diverse manieren kan bijdragen aan dissociatie. Zo blijkt slaapgebrek en de daaruit voortkomende vermoeidheid dissociatieve symptomen te verergeren. Daarnaast bestaat er een verband tussen het 's nachts hebben van ongewone slaapervaringen (nachtmerries, hypnopompe hallucinaties, etc.) en dissociatieve symptomen overdag. In de klinische literatuur overheerst nog steeds de opvatting dat trauma de directe oorzaak is van dissociatie. Onderzoek naar slaap en dissociatie wijst in een andere richting. Het kan de aanzet vormen voor nieuwe behandelmethoden van dissociatieve stoornissen, namelijk interventies die zich richten op het normaliseren van de slaap-waakcyclus. We zullen eindigen met een agenda voor toekomstig onderzoek om het slaap-dissociatiemodel verder te onderbouwen en te nuanceren.