2014 | OriginalPaper | Hoofdstuk
5. Van procesmodel naar interventieprogramma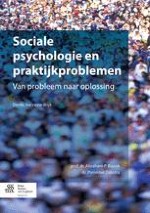 eerste hoofdstuk lezen
Auteurs: Prof. dr. Abraham P. Buunk, Dr. Pieternel Dijkstra
Uitgeverij: Bohn Stafleu van Loghum
Samenvatting
Met behulp van een balanstabel kiest de interventionist de factoren uit het procesmodel die het meest beïnvloedbaar lijken en die tegelijkertijd het sterkste effect lijken uit te oefenen. Dit zijn de factoren die hij wil gaan beïnvloeden met zijn interventieprogramma.
Vervolgens bekijkt hij hoe deze factoren het beste beïnvloed kunnen worden. Om de interventie vorm te kunnen geven zal hij moeten kiezen voor een of meer kanalen en methoden. Betreft het kanaal de manier waarop de doelgroep bereikt wordt (bijvoorbeeld via televisie of een folder), de methode heeft betrekking op de wijze waarop de verandering wordt bewerkstelligd.
Op basis van deze keuze wordt vervolgens een interventieprogramma gebouwd, waarbij de uitdaging is ervoor te zorgen dat de interventies die worden ontwikkeld goed blijven aansluiten bij de factoren uit en de ideeën achter het procesmodel.
Alvorens het interventieprogramma uit te voeren, doet de interventionist er goed aan (delen van) het interventieprogramma voor te testen. Voortesten kan twee doelen hebben: nagaan of de interventie wel ontvangen wordt door leden van de doelgroep en nagaan of de interventie effectief zal zijn. Een interventionist die dit doel nastreeft, zal een pilotonderzoek moeten doen in de vorm van een experiment.