01-06-2016 | Uitgave 6/2016 Open Access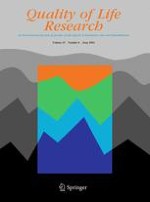 Using the Three-Step Test Interview to understand how patients perceive the St. George's Respiratory Questionnaire for COPD patients (SGRQ-C)
Tijdschrift:
Auteurs:

Muirne C. S. Paap, Lukas Lange, Job van der Palen, Christina Bode
Abstract
Purpose
The aim of this study was to assess the experiences of patients with chronic obstructive pulmonary disease (COPD) while they were completing the St. George's Respiratory Questionnaire for COPD patients (SGRQ-C), using qualitative research methods.
Methods
Twenty Dutch COPD patients were recruited through pulmonary physicians [13 women; mean age = 63.3 years (SD = 11.4)]. A trained interviewer applied the Three-Step Test Interview which allowed the interviewer to follow the thought process of the patient filling out the SGRQ-C. The official Dutch translation of the SGRQ-C was used.
Results
Patients missed a recall period for the Symptoms subscale; were uncertain how to interpret specific words and phrases like "good days", "games", and "housework"; were confused by long-item stems that included a list of activities; and were frustrated by the dichotomous format used for the majority of SGRQ-C items (true/false).
Conclusions
Overall, patients were satisfied with the SGRQ-C. Nevertheless, making minor adjustments could further increase its quality. This includes reintroducing a recall period in the first set of items such as used in the previous version and splitting up items consisting of multiple activities. Furthermore, we recommend using the same response format (4 or 5 response categories) for all items.