01-06-2016 | Uitgave 6/2016 Open Access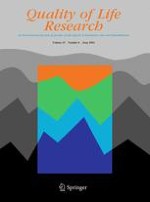 Impact of clinical osteoarthritis of the hip, knee and hand on self-rated health in six European countries: the European Project on OSteoArthritis
Tijdschrift:
Auteurs:

N. M. van Schoor, S. Zambon, M. V. Castell, C. Cooper, M. Denkinger, E. M. Dennison, M. H. Edwards, F. Herbolsheimer, S. Maggi, M. Sánchez-Martinez, N. L. Pedersen, R. Peter, L. A. Schaap, J. J. M. Rijnhart, S. van der Pas, D. J. H. Deeg
Belangrijke opmerkingen
For the EPOSA research group.
Abstract
Purpose
Osteoarthritis (OA) has been shown to be associated with decreased physical function, which may impact upon a person's self-rated health (SRH). Only a few studies have examined the association between OA and SRH in the general population, but to date none have used a clinical definition of OA. The objectives are: (1) To examine the cross-sectional association between clinical OA and fair-to-poor SRH in the general population; (2) To examine whether this association differs between countries; (3) To examine whether physical function is a mediator in the association between clinical OA and SRH.
Methods
Baseline data of the European Project on OSteoArthritis (EPOSA) were used, which includes pre-harmonized data from six European cohort studies (
n
= 2709). Clinical OA was defined according to the American College of Rheumatology criteria. SRH was assessed using one question: How is your health in general? Physical function was assessed using the Western Ontario and McMaster Universities OA Index and Australian/Canadian OA Hand Index.
Results
The prevalence of fair-to-poor SRH ranged from 19.8 % in the United Kingdom to 63.5 % in Italy. Although country differences in the strength of the associations were observed, clinical OA of the hip, knee and hand were significantly associated with fair-to-poor SRH in five out of six European countries. In most countries and at most sites, the association between clinical OA and fair-to-poor SRH was partly or fully mediated by physical function.
Conclusions
Clinical OA at different sites was related to fair-to-poor SRH in the general population. Most associations were (partly) mediated by physical functioning, indicating that deteriorating physical function in patients with OA should be a point of attention in patient care.