13-07-2018 | Original Article | Uitgave 6/2018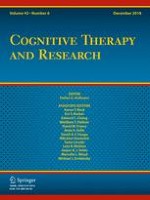 The Role of Anxiety Sensitivity in the Relationship Between Emotion Dysregulation and Internalizing Psychopathology Among Trauma-Exposed Inpatient Adolescents
Tijdschrift:
Auteurs:

Emma C. Woodward, Andres G. Viana, Elizabeth M. Raines, Abigail E. Hanna, Michael J. Zvolensky
Abstract
The present investigation examined the underlying role of anxiety sensitivity and its facets in the association between emotion dysregulation and three of the most prevalent and debilitating symptom classes among trauma-exposed psychiatric inpatient youth: posttraumatic stress disorder (PTSD), anxiety, and depression symptoms. Participants (
N
 = 50; 52.0% female;
M
age
 = 15.1 years,
SD
 = .51, range 12–17 years) completed an assessment battery that included measures of emotion dysregulation anxiety sensitivity, PTSD, anxiety, and depression symptoms. Consistent with hypotheses, the global construct of anxiety sensitivity, as well as its mental incapacitation concerns and disease concerns facets, explained, in part, associations between emotion dysregulation and the three symptom classes. The study results provide novel and clinically meaningful findings regarding the potential mechanistic role of anxiety sensitivity in the relation of emotion dysregulation to PTSD and internalizing symptoms among trauma-exposed inpatient adolescents. As such, findings underscore the potential value of targeting anxiety sensitivity in general, and mental incapacitation and disease concerns specifically, as a means of reducing risk for internalizing psychopathology among trauma-exposed inpatient youth.