03-12-2018 | Original Article | Uitgave 1/2019 Open Access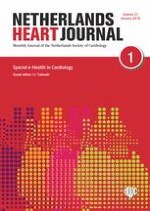 Telemonitoring with an implantable loop recorder in outpatient heart failure care
One year follow-up report from a prospective observational Dutch multicentre study
Tijdschrift:
Auteurs:

R. S. S. Kort, Y. S. Tuininga, H. A. Bosker, M. Janssen, R. Tukkie
Abstract
Introduction
In the care of heart failure patients, telemonitoring is receiving growing attention. The main purpose of this study was to determine the effect of continuous telemonitoring with an implantable loop recorder (ILR, Reveal XT), a novel strategy in the management of stable heart failure patients without a cardiac implantable device. Furthermore, little is known about the incidence of subclinical arrhythmias in this specific group of patients.
Materials and Methods
Stable heart failure patients, New York Heart Association Class II and III, without recent hospitalisation or upcoming intervention, were included. After implantation of the ILR there was regular contact with the research nurse on a pre-specified basis. Clinic visits and telephonic interviews were alternated for a minimum of 1 year. Parallel visits to their treating physician continued according to standard care. The treating physician was blinded for the ILR findings, accept for pre-specified, significant arrhythmic events.
Results
Thirty patients were included and followed for a median duration of 12 months. In 13 patients, data from the loop recorder led to therapeutic changes. One patient received a pacemaker. Eight patients developed atrial fibrillation, all subclinical, with a mean burden of 65.8 ± 173.2 min/day.
Conclusion
The use of an ILR could potentially impact patient management. Additional study is needed in different patient populations (e. g. higher risk groups) to assess if an ILR could also impact on endpoints such as heart failure hospitalisation.