01-12-2017 | onderzoek | Uitgave 12/2017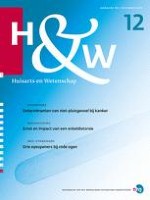 SOLK: de persoon, de symptomen en de dialoog
Tijdschrift:
Auteurs:

Juul Houwen, Peter Lucassen, Hugo Stappers, Pim Assendelft, Sandra van Dulmen, Tim olde Hartman
Belangrijke opmerkingen
Radboudumc, afdeling Eerstelijnsgeneeskunde, Nijmegen: J. Houwen, aiotho; dr. P.L.B.J. Lucassen, huisarts-onderzoeker; H. Stappers, psycholoog-onderzoeker; prof.dr. W.J.J. Assendelft, hoogleraar Huisartsgeneeskunde; prof.dr. S. van Dulmen, hoogleraar Communicatie in de gezondheidszorg (tevens NIVEL, Utrecht, en University College of Southeast Norway, Drammen); dr. T.C. olde Hartman, huisarts-onderzoeker.
Mogelijke belangenverstrengeling: niets aangegeven.
Dit artikel is eerder verschenen als Houwen J, Lucassen PLBJ, Stappers HW, Assendelft PJJ, van Dulmen S, olde Hartman TC. Medically unexplained symptoms: the person, the symptoms and the dialogue. Fam Pract 2017;34(2):245-51. Publicatie gebeurt met toestemming.
Samenvatting
Houwen J, Lucassen PL, Stappers HW, Assendelft WJ, Van Dulmen S, Olde Hartman TC. SOLK: de persoon, de symptomen en de dialoog Huisarts Wet 2017;60(12):631-4.
Achtergrond
Veel huisartsen vinden de zorg voor patiënten met SOLK moeilijk en de patiënten zijn vaak niet tevreden over de zorg die ze krijgen. Doel van dit onderzoek was het exploreren van verwachtingen en het identificeren van relevante communicatie- elementen in SOLK-consulten volgens patiënten met SOLK.
Methode
We namen consulten bij de huisarts op video op. Na het consult gaf de huisarts aan of er sprake was van SOLK. De patiënten in deze SOLK-consulten keken het consult samen met de onderzoeker terug waarbij patiënten reflecteerden op het consult. Deze reflecties namen we op audiotape op en analyseerden we kwalitatief.
Resultaten
Van de 393 opgenomen videoconsulten was er bij 43 sprake van SOLK. Alle patiënten vertelden dat zij wilden dat hun klachten serieus werden genomen. Dit serieus nemen kon volgens patiënten bereikt worden door: (1) aandacht voor de patiënt als persoon, (2) aandacht voor een gelijkwaardig gesprek en (3) aandacht voor symptomatische behandeling.
Conclusie
Patiënten met SOLK willen een persoonlijke benadering waarin de huisarts aandacht geeft aan persoonlijke omstandigheden, somatisch klachtenmanagement en een goed gesprek. Het inbouwen van deze elementen in de consultvaardigheden van huisartsen kan de zorg voor patiënten met SOLK verbeteren.