01-02-2013 | Uitgave 1/2013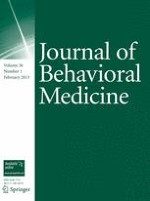 RETRACTED ARTICLE: Preference for immediate reinforcement over delayed reinforcement: relation between delay discounting and health behavior
Tijdschrift:
Auteurs:

Shane Melanko, Kevin T. Larkin
Belangrijke opmerkingen
At the request of Kevin Larkin, this article has been retracted due to research misconduct of Shane Melanko. Mister Melanko was solely responsible for the actions that resulted in the retraction of this article, and Dr. Larkin was unaware of his actions until after the article was published. No other published work was implicated during the investigation of research misconduct and any data collected by Mr. Melanko for other studies has been discarded and will not be analyzed or published.
Abstract
Reinforcement from engaging in health behaviors is often delayed by several months or years, a circumstance partly responsible for some people's increased preference for engaging in unhealthy behaviors associated with immediate reinforcement. To examine whether individuals who discount the future engage in fewer health behaviors, 72 young adults completed questionnaires assessing health behaviors and impulsiveness and laboratory-behavioral measures of impulsive decision making. Regression analyses of impulsivity measures predicting health behavior were only significant for one measure, the Experiential Discounting Task, a task in which monetary consequences of choice were actually experienced by study participants. Participants who discounted most by delay (i.e., exhibited impulsive choice) engaged in fewer health behaviors than those who showed less impulsive responding. This task, in contrast to a hypothetical choice task or self-reported impulsiveness, measures the actual behavior of discounting by delay, and was the facet of impulsive decision making most closely associated with adopting a range of health behaviors.