01-02-2011 | Uitgave 1/2011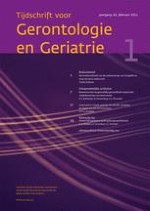 Reminiscentie en geestelijke gezondheid: empirische onderbouwing van interventies.
Tijdschrift:
Auteurs:

E.T. Bohlmeijer, B. Steunenberg, G.J. Westerhof
Samenvatting
De laatste jaren is er veel onderzoek gedaan naar de functies van reminiscentie bij ouderen in relatie tot geestelijke gezondheid. In dit artikel wordt allereerst een overzicht gegeven van dit onderzoek. Er worden acht functies onderscheiden: herbeleving van bitterheid, opheffen van verveling, vorming van identiteit, oplossen van problemen, behoud van intimiteit, voorbereiding op de dood, onderwijzen/ informeren en conversatie. Sommige functies zoals het herleven van bitterheid worden vaker gebruikt door mensen met depressieve of angstklachten. Andere functies zoals identiteitsvorming worden juist minder gebruikt door mensen met psychische klachten. Op basis van deze empirische gegevens wordt een model voor reminiscentie-interventies gepresenteerd. Reminiscentie, life-review en life-reviewtherapie worden onderscheiden. Life-reviewtherapie behoort met cognitieve gedragstherapie tot de meest effectieve behandelingen van depressie bij ouderen. Tot slot worden drie effectieve interventies die in Nederland zijn ontwikkeld en onderzocht besproken. Dit zijn Op zoek naar zin, Dierbare Herinneringen en De verhalen die we leven. Het eerste deel van dit artikel is gebaseerd op Westerhof GJ, Bohlmeijer ET, Webster JD. Reminiscence and mental health: a review of recent progress in theory, research and interventions. Ag & Soc 2010; 30: 697–721.
Trefwoorden: reminiscentie; life-review; geestelijke gezondheid; review; ouderen