01-01-2011 | Original Article | Uitgave 1/2011 Open Access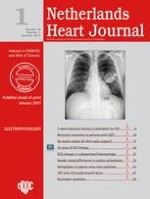 Recurrent and Founder Mutations in the Netherlands: the Long-QT Syndrome
Tijdschrift:
Auteurs:

N. Hofman, R. Jongbloed, P. G. Postema, E. Nannenberg, M. Alders, A. A. M. Wilde
Abstract
Background and objective
The long-QT syndrome (LQTS) is associated with premature sudden cardiac deaths affecting whole families and is caused by mutations in genes encoding for cardiac proteins. When the same mutation is found in different families (recurrent mutations), this may imply either a common ancestor (founder) or multiple de novo mutations. We aimed to review recurrent mutations in patients with LQTS.
Methods
By use of our databases, we investigated the number of mutations that were found recurrently (at least three times) in LQT type 1–3 patients in the Netherlands. We studied familial links in the apparently unrelated probands, and we visualised the geographical distribution of these probands. Our results were compared with published literature of founder effects in LQTS outside the Netherlands.
Results
We counted 14 recurrent LQT mutations in the Netherlands. There are 326 identified carriers of one of these mutations. For three of these mutations, familial links were found between apparently unrelated probands.
Conclusion
Whereas true LQT founder mutations are described elsewhere in the world, we cannot yet demonstrate a real founder effect of these recurrent mutations in the Netherlands. Further studies on the prevalence of these mutations are indicated, and haplotype-sharing of the mutation carriers is pertinent to provide more evidence for founder mutation-based LQTS pathology in our country.