01-01-2011 | Original Article | Uitgave 1/2011 Open Access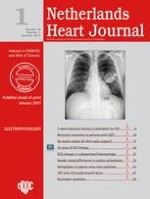 Statins Do Not Reduce Atrial Fibrillation After Cardiac Valvular Surgery: A Single Centre Observational Study
Tijdschrift:
Auteurs:

R. J. Folkeringa, R. G. Tieleman, J. G. Maessen, M. H. Prins, R. Nieuwlaat, H. J. G. M. Crijns
Abstract
Introduction
Statins may theoretically reduce postoperative atrial fibrillation (AF) in patients after cardiac valvular surgery due to preservation of endothelial function and anti-ischaemic, anti-inflammatory and anti-remodelling effects.
Methods
Two hundred seventy-two patients who underwent cardiac workup and subsequently cardiac valvular surgery without AF and concomitant coronary artery bypass grafting (CABG) at our hospital were selected. Preoperative drug use and postoperative AF were recorded. AF was defined as any episode of AF longer than 10 s. In addition, results from echocardiography and blood samples were retrieved.
Results
Baseline characteristics were as follows: mean age was 65 ± 11 years, 142 (52%) patients were male, 189 (70%) had undergone aortic valve surgery and the mean left ventricular ejection fraction was 57 ± 12%. Statins were used by 79 patients (29%). Statin users, more often, had a prior percutaneous coronary intervention (25% vs 9%,
p
 < 0.001) or CABG (24% vs 4%,
p
 < 0.001), diabetes mellitus (22% vs 5%,
p
 < 0.001) and more often used β-blockers (51% vs 24%,
p
 < 0.001). Patients in the non-statin group more often had surgery on more than one valve (10% vs 3%,
p
 = 0.043) and had a higher cholesterol level (222 ± 48 vs 190 ± 43 mg/dl,
p
 < 0.001). Postoperative AF occurred in 54% (43/79) of the patients with and in 55% (106/193) of the patients without statins (
p
 = 0.941). There was also no difference in the timing of onset of AF or duration of hospital stay.
Conclusion
In this observational study, statin use was not associated with a reduced incidence of AF in patients after cardiac valvular surgery.