28-11-2019 | Original Article | Uitgave 3/2020 Open Access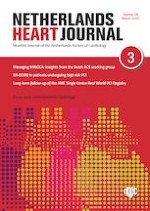 Prophylactic veno-arterial extracorporeal membrane oxygenation in patients undergoing high-risk percutaneous coronary intervention
Tijdschrift:
Auteurs:

F. S. van den Brink, T. A. Meijers, S. H. Hofma, A. J. van Boven, A. Nap, A. Vonk, P. Symersky, K. D. Sjauw, P. Knaapen
Abstract
Purpose
Complex high-risk percutaneous coronary intervention (PCI) is challenging and frequently accompanied by haemodynamic instability. Veno-arterial extracorporeal membrane oxygenation (VA-ECMO) can provide cardiopulmonary support in high-risk PCI. However, the outcome is unclear.
Methods
A two-centre, retrospective study was performed of all patients undergoing high-risk PCI and receiving VA-ECMO for cardiopulmonary support.
Results
A total of 14 patients (92% male, median age 69 (53–83) years), of whom 50% had previous coronary artery disease in the form of a coronary artery bypass graft (36%) and a PCI (14%) underwent high-risk PCI and received VA-ECMO support. The main target lesion was a left main coronary artery in 78%, a left anterior descending artery in 14%, a right coronary artery in 7%, and 71% underwent multi-vessel PCI in addition to main target vessel PCI. The median SYNTAX score was 27.2 (8–42.5) and in 64% (9/14) there was a chronic total occlusion. Left ventricular function was mildly impaired in 7% (1/14), moderately impaired in 14% (2/14) and severely impaired in 64% (9/14). Cannulation was femoral-femoral in all patients. Median ECMO run was 2.57 h (1–4). Survival was 93% (13/14). One patient died during hospitalisation due to refractory cardiac failure. All other patients survived to discharge. Complications occurred in 14% (2/14), with one patient developing a transient ischaemic attack post-ECMO and one patient developing a thrombus in the femoral vein used for ECMO cannulation.
Conclusion
VA-ECMO in high-risk PCI is feasible with a good outcome. It can be successfully used for cardiopulmonary support in selected patients.