17-01-2020 | Original Article | Uitgave 3/2020 Open Access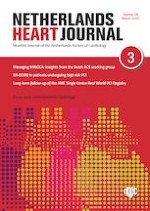 The Absorb bioresorbable vascular scaffold in real-world practice: long-term follow-up of the AMC Single Centre Real World PCI Registry
Tijdschrift:
Auteurs:

R. Y. G. Tijssen, M. E. Annink, R. P. Kraak, K. T. Koch, J. Baan Jr, M. M. Vis, J. J. Piek, J. P. S. Henriques, R. J. de Winter, M. A. M. Beijk, J. J. Wykrzykowska
Abstract
Background
Bioresorbable scaffolds have been introduced to overcome the shortcomings of drug-eluting stents. Higher rates of device thrombosis, however, have been reported up to 3 years after implantation of the Absorb bioresorbable vascular scaffold (BVS). In the current article, we therefore report long-term clinical outcomes of the AMC Absorb Registry.
Methods and results
In the AMC Absorb Registry, all patients who underwent a percutaneous coronary intervention with Absorb BVS implantation between 30 August 2012 and 5 August 2013 at the Amsterdam University Medical Centre—Academic Medical Centre were included. The composite endpoint of this analysis was target-vessel failure (TVF). The median follow-up of the study cohort of the AMC Absorb Registry was 1534 days. At the time of the cross-sectional data sweep the clinical status at 4 years was known in 124 of 135 patients (91.9%). At long-term follow-up, the composite endpoint of TVF had occurred in 27 patients. The 4‑year Kaplan-Meier estimate of TVF was 19.8%. At 4 years cardiac death had occurred in 4 patients (3.2%) and target-vessel myocardial infarction in 9 (6.9%) patients. Definite scaffold thrombosis occurred in 5 (3.8%) patients. We found 1 case of very late scaffold thrombosis that occurred at 911 days after device implantation in a patient who was not on dual anti-platelet therapy.
Conclusion
In a patient population reflecting routine clinical practice, we found that cases of TVF continued to accrue beyond 2 years after Absorb BVS implantation.