01-04-2013 | Onderzoek | Uitgave 4/2013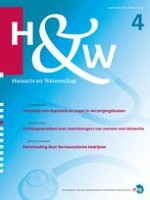 Preventie van depressie en angst in verzorgingshuizen
Tijdschrift:
Auteurs:

dr. Els Dozeman, dr. Harm van Marwijk, dr. Anneke van Schaik, prof.dr. Filip Smit, prof.dr. Max Stek, prof.dr. Henriëtte van der Horst, prof.dr. Ernst Bohlmeijer, prof.dr. Aartjan Beekman
Belangrijke opmerkingen
VUmc, afdeling Huisartsgeneeskunde en Ouderengeneeskunde/EMGO+, De Boelelaan 1109, secretariaat 9A-02, 1081 HV Amsterdam
preventiewerker-onderzoeker
huisarts-onderzoeker
psychiater-onderzoeker
hoogleraar Huisartsgeneeskunde
hoogleraar Psychiatrische epidemiologie/psychiatrie
senior wetenschappelijk medewerker Publieke geestelijke gezondheid. VUmc, afdeling Psychiatrie
hoogleraar Ouderenpsychiatrie. Universiteit Twente, faculteit Gedragswetenschappen, Enschede
hoofddocent Psychologie
Mogelijke belangenverstrengeling: ZonMw-subsidie 62200026.
Dit onderzoek werd eerder gepubliceerd als: Dozeman E, Van Marwijk HW, Van Schaik DJ, Smit F, Stek ML, Van der Horst HE, Bohlmeijer ET, Beekman AT. Contradictory effects for prevention of depression and anxiety in residents in homes for the elderly: a pragmatic randomized controlled trial. Int Psychogeriatr 2012;24(8):1242-51. Publicatie gebeurt met toestemming van de uitgever.
Samenvatting
Š
Dozeman E, Van Marwijk HWJ, Van Schaik DJF, Smit F, Stek ML, Van der Horst HE, Bohlmeijer ET, Beekman ATF. Preventie van depressie en angst in verzorgingshuizen. Huisarts Wet 2013;56(4):154-8
.
Achtergrond
Bewoners van verzorgingshuizen vormen een risicogroep voor het ontwikkelen van een depressieve en/of angststoornis. Deze stoornissen komen veel voor en hebben een grote impact op het welzijn en functioneren van de betrokkene, maar worden vaak slecht herkend. Wij vroegen ons af of een stepped-care programma ter preventie van depressieve en angststoornissen in verzorgingshuizen haalbaar en effectief zou kunnen zijn.
Methoden
In een pragmatische gerandomiseerde gecontroleerde trial vergeleken we de effecten van het programma met gebruikelijke zorg in veertien verzorgingshuizen. In totaal deden 185 bewoners mee, die op de Centre for Epidemiologic Studies Depression Scale (CES-D) minstens 8 punten scoorden, niet leden aan een depressieve of angststoornis en ook niet aan een ernstige cognitieve stoornis. De deelnemers kregen een stepped-care preventieprogramma (n = 93) of gebruikelijke behandeling (n = 92). De deelnemers aan het preventieprogramma kregen eerst een afwachtend beleid en als ze niet opknapten achtereenvolgens een zelfhulpinterventie, een psychologische
life-review
en een verwijzing naar de huisarts. Onze primaire uitkomstmaat was de incidentie van een depressieve stoornis of angststoornis gedurende het jaar na inclusie.
Resultaten
De incidentie van depressie en angst samen nam niet af door de interventie: de gecombineerde
incidence rate ratio
(IRR) was 0,50 (95%-betrouwbaarheidsinterval (BI) 0,23 tot 1,12). Ten opzichte van de gebruikelijke zorg bracht het preventieprogramma wel het indicentierisico voor depressie omlaag (IRR 0,26; 95%-BI 0,12 tot 0,80) maar niet dat voor angst (IRR 1,32; 95%-BI 0,48 tot 3,62).
Conclusie
De resultaten suggereren dat het toegepaste steppedcare preventieprogramma bij ouderen in verzorgingshuizen wel helpt tegen depressie, maar niet tegen angst.