01-04-2013 | Onderzoek | Uitgave 4/2013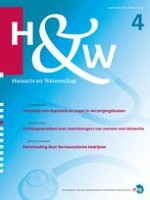 Familiegesprekken voor mantelzorgers van mensen met dementie
Tijdschrift:
Auteurs:

dr. Karlijn Joling, dr. Harm van Marwijk, prof.dr. Henriëtte van der Horst, prof.dr. Philip Scheltens, dr. Peter van de Ven, prof.dr. Filip Smit, Bregje Appels, dr. Hein van Hout
Belangrijke opmerkingen
VUmc EMGO+ Instituut, afdeling Huisartsgeneeskunde en ouderengeneeskunde, Van der Boechorststraat 7, 1081 BT Amsterdam
postdoc onderzoeker, epidemioloog
huisarts, universitair hoofddocent
huisarts
universitair docent
neuroloog
universitair docent, statisticus
hoogleraar Publieke geestelijke gezondheid
neuropsycholoog
Samenvatting
Š
Joling KJ, Van Marwijk HW, Smit F, Van der Horst HE, Scheltens P, Van de Ven PM, Appels BA, Van Hout HP, Familiegesprekken voor mantelzorgers van mensen met dementie. Huisarts Wet 2013;56(4):160-4
.
Doel
Vaststellen of familiegesprekken een effectief middel zijn om depressie en angst bij mantelzorgers van thuiswonende dementiepatiënten te voorkomen en verpleeghuisopname van patiënten uit te stellen, afgemeten aan de in Nederland gebruikelijke zorg.
Methode
Wij wezen mantelzorgers en dementiepatiënten als koppel gerandomiseerd toe aan de interventie- (n = 96) of de controlegroep (n = 96). Mantelzorgers in de interventiegroep kregen gedurende een jaar twee individuele begeleidende gesprekken en vier familiegesprekken aangeboden. De controlegroep ontving de gebruikelijke zorg. De belangrijkste uitkomstmaten waren de éénjaarsincidentie van depressie- en angststoornissen en de ernst van depressie- en angstklachten bij mantelzorgers, en de tijd tot verpleeghuisopname van patiënten binnen de follow-upperiode van achttien maanden.
Resultaten
Van de 192 mantelzorgers in ons onderzoek ontwikkelden er 72 (38%) een depressie- of angststoornis. Het risico op een stoornis was in de interventiegroep even hoog als in de controlegroep. Ook de ernst van depressieve of angstklachten verschilde niet. Tijdens de follow-upperiode werden 41 (21%) van de 192 patiënten permanent opgenomen in een verpleeghuis. Er wasgeen verschil in de tijd tot opname tussen beide groepen.
Conclusie
Wij hebben geen preventief effect kunnen aantonen van familiegesprekken op de mentale gezondheid van de mantelzorger. Onze interventie was niet effectiever dan de gebruikelijke zorg om verpleeghuisopname van de patiënt uit te stellen.