29-09-2017 | Uitgave 4/2017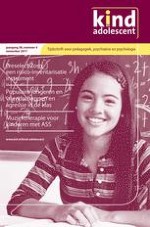 Preselect Zorg: een risicotaxatie-instrument voor zorgwekkende opgroei- en opvoedsituaties
Tijdschrift:
Auteurs:

Dr. Claudia van der Put, Prof. dr. Geert-Jan Stams
Belangrijke opmerkingen
Dit artikel is een bewerking van:
Put, C.E. van der, & Stams, G. J. J. M. (2013). Youth Offender Care Needs Assessment Tool (YO-CNAT): an actuarial risk assessment tool for predicting problematic child-rearing situations on the basis of police records.
Psychological Assessment, 25
(4), 1167–1178.
https://​doi.​org/​10.​1037/​a0033453
.
Samenvatting
Het doel van dit onderzoek was het ontwikkelen van een actuarieel risicotaxatie-instrument waarmee het risico op zorgwekkende opgroei- en opvoedsituaties kan worden ingeschat op basis van informatie uit politiesystemen (Preselect Zorg). Preselect Zorg is ontwikkeld als onderdeel van het Landelijk Instrumentarium Jeugdstrafrecht, met als doel dat politieofficieren zonder klinische expertise een snelle inschatting kunnen maken van zorg bij jongeren die in aanraking komen met de politie. Twee aparte steekproeven van elk 2.000 jongeren zijn gebruikt voor de ontwikkeling en validatie van Preselect Zorg. De predictieve validiteit van Preselect Zorg bleek voldoende (AUC = 0,75) voor gebruik als screeningsinstrument door de politie bij de beslissing welke jongere door te verwijzen naar instellingen voor jeugdbescherming voor verder onderzoek.