02-03-2020 | Uitgave 7/2020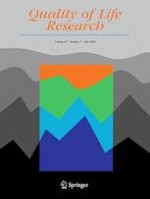 Predictive model of variables associated with health-related quality of life in patients with advanced chronic kidney disease receiving hemodialysis
Tijdschrift:
Auteurs:

P. García-Martínez, M. D. Temprado-Albalat, R. Ballester-Arnal, K. Gandhi-Morar, J. Castro-Calvo, E. Collado-Boira
Belangrijke opmerkingen
Publisher's Note
Springer Nature remains neutral with regard to jurisdictional claims in published maps and institutional affiliations.
Abstract
Purpose
Chronic kidney disease (CKD) affects over 10% of the global population. Health-related quality of life (HRQoL) has been identified as a reliable indicator for assessing the effectiveness of treatment in chronic patients, and resilience as a predictor of low levels of stress and higher QoL. The aim of this research is to identify the relationship between HRQoL, resilience, perceived stress, and the different sociodemographic and clinical routine variables of advanced chronic kidney disease (ACKD).
Methods
Multicenter, cross-sectional, and correlational study with 155 ACKD patients in the Valencian Community (Spain). The measures for the study included the Kidney Disease Quality of Life 36 (KDQOL-36), the Perceived Stress Scale 10 (PSS10), and the Connors–Davidson Resilience Scale (CD-RISC). To identify the variables with predictive power over the scales and subscales of the KDQOL-36, multiple regression analyses were performed.
Results
Average participants' age was 67.39, 68.4% were male, 29% diabetic, and 83.2% had undergone arteriovenous vascular access placement with a Charlson Comorbidity Index of 6 (SD = 2.09). The regression models identified that age and resilience explained up to 26.8% of the variance of the KDQOL-36 total score. As for the physical component of QoL, comorbidity with other clinical conditions, resilience, and the presence of diabetes explained 32.1% of its variance.
Conclusions
Resilience was identified as one of the most important predictors of HRQoL. Thus, the development of interventions aiming to improve the level of resilience may have a positive impact over the quality of life of patients with CKD.