23-03-2017 | Brief Report | Uitgave 5/2017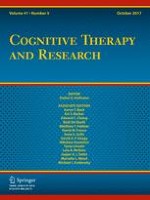 Positive and Negative Affective Forecasting in Remitted Individuals with Bipolar I Disorder, and Major Depressive Disorder, and Healthy Controls
Tijdschrift:
Auteurs:

Renee J. Thompson, Aleksandr Spectre, Philip S. Insel, Douglas Mennin, Ian H. Gotlib, June Gruber
Abstract
Although emotional disturbances characterize mood disorders, little is known about the affective forecasts of these individuals. We examined forecasted intensity and accuracy for negative affect (NA) and positive affect (PA) among two remitted clinical groups: individuals with Bipolar I (BD;
n
 = 31) and Major Depressive Disorder (MDD;
n
 = 21), and healthy controls (CTL;
n
 = 32). We also examined whether each group's forecasting accuracy varied by valence. At the lab, participants forecasted their short-term (next day) and long-term (next week) NA and PA; then they completed a week of experience sampling. The MDD group forecasted lower PA and higher NA than the CTL group; the BD group's forecasts varied across time frames. There were no group differences in forecasting accuracies. Regarding within group forecasting accuracy, the CTL group was more accurate in PA than NA; the BD group was similarly accurate across valence, and the MDD group's accuracy varied based on the time frame.