01-10-2006 | Original Paper | Uitgave 5/2006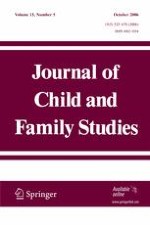 Parental Psychopathology and Paternal Child Neglect in Late Childhood
Tijdschrift:
Auteurs:

Ph.D. Chris Stewart, Ph.D. Ada C. Mezzich, M.I.S. Bang-Shiuh Day
We aimed at determining the association of both severity of paternal and maternal substance use disorder (SUD) and psychiatric disorders with paternal child neglect severity during late childhood. The sample comprised 146 intact SUD (
n
=71) and non SUD (
n
=75) families with a 10–12 year old female or male biological offspring. The average age of fathers, mothers, and children was 44 (
SD
=5.9), 42 (
SD
=4.78), and 11 (
SD
=.79) years, respectively. The ethnic composition was 85% Caucasian and 15% African American. The results showed that paternal and maternal SUD and psychiatric disorders severity was correlated with paternal child neglect severity. However, paternal psychopathology failed to achieve significance in the regression analyses. Severity of maternal, especially severity of antisocial personality disorder symptoms was associated with paternal child neglect. These results are discussed within the framework of evolutionary psychology research examining paternal investment in the offspring. Implications for the necessity of identifying parental psychopathology and an integrated treatment approach are discussed.