22-04-2020 | Uitgave 7/2020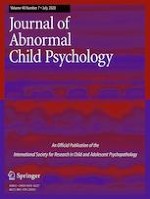 Parental Presence Impacts a Neural Correlate of Anxiety (the Late Positive Potential) in 5–7 Year Old Children: Interactions with Parental Sensitivity to Child Anxiety
Tijdschrift:
Auteurs:

Taylor N. Day, Lyndsey J. Chong, Alexandria Meyer
Belangrijke opmerkingen
Publisher's Note
Springer Nature remains neutral with regard to jurisdictional claims in published maps and institutional affiliations.
Abstract
Anxiety disorders tend to onset early in development and often result in chronic impairment across the lifespan. Thus, there is substantial interest in identifying early neural markers of anxiety and leveraging these markers to better understand processes leading to anxiety. The late positive potential (i.e., LPP) indexes sustained attention to motivationally relevant stimuli; and the LPP to negative images is increased in individuals with anxiety. In the current study, we examined how
parental presence
impacts the LPP to threatening images in children (52.6% male) between 5 and 7 years-old (
N
 = 78). Moreover, we explored interactions with parental sensitivity to child anxiety symptoms. Results suggest that when children are in the presence of their parent (compared to the presence of an experimenter), they displayed a larger LPP to threatening images. LPP activity was modulated by parental response to their child's anxiety symptoms, such that children with parents who were overly reactive to their children's anxiety symptoms had the greatest LPP response when viewing threatening stimuli in their parent's presence. Additionally, exploratory analyses indicated that children with clinical and subclinical anxiety were characterized by an increased LPP to negative images, but only when the LPP was measured with parents in the room. Findings are novel and extend previous work by suggesting that parents who react strongly when observing their children's anxiety symptoms in turn increase their child's engagement with threatening stimuli, thereby placing them at greater risk for anxiety.