01-12-2011 | Uitgave 10/2011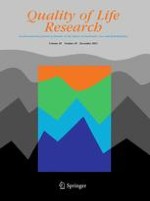 Oral-health-related quality of life in schoolchildren in an endemic fluorosis area of Mexico
Tijdschrift:
Auteurs:

F. C. Aguilar-Díaz, M. E. Irigoyen-Camacho, S. A. Borges-Yáñez
Abstract
Objective
To evaluate the oral-health-related quality of life (OHRQoL) of children living in an endemic hydrofluorosis area.
Methods
Schoolchildren aged 8–10 years living in an area with 3.38 ppm F water concentration completed a validated Spanish version of the Child Perceptions Questionnaire (CPQ8–10ESP). World Health Organization (WHO) criteria were applied for the diagnosis of dental caries and malocclusion. Additionally, the Thylstrup and Fejerskov Index (TFI) was used for fluorosis diagnosis. CPQ8–10ESP scores and oral health status were analyzed using non-parametric tests and logistic regression models.
Results
Two hundred and twelve schoolchildren participated in this study. The mean CPQ
8–10ESP
score was 12.98 (SD 11.4). General oral health was rated as "poor" in 14.6%, "fair" in 41.5%, "good" in 25.9%, and "very good" in 17.9% of the children. Regarding overall well-being, half (51.6%) of the children perceived that the condition of their mouths disturbs their quality of life (QoL). Children with dental fluorosis (TF >4) had a high CPQ
8–10ESP
score in all domains (
P
< 0.005). Additionally, children with DMFS + dmfs >5 had higher scores in the oral symptoms, functional limitation, and emotional well-being CPQ
8–10ESP
domains (
P
< 0.05). Applying a CPQ
8–10ESP
cutoff point of 32, the OR values for severe malocclusion, caries, and fluorosis were 5.2 (
P
= 0.034), 4.6 (
P
= 0.006), and 5.1 (
P
= 0.007), respectively.
Conclusions
Malocclusion, caries, and fluorosis were associated with a negative impact on children's QoL.