01-11-2010 | Klinische les | Uitgave 11/2010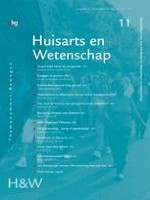 Nooit meer shin splints!
Tijdschrift:
Auteur:

dr. F. Hartgens
Belangrijke opmerkingen
Mogelijke belangenverstrengeling: niets aangegeven.
sportarts
Samenvatting
Hartgens F. Nooit meer shin splints! Huisarts Wet 2010;53(11):635- 40.
Inspanningsgerelateerde pijn aan de mediale zijde van het onderbeen is een hinderlijke blessure, waar veel sporters last van krijgen. Velen noemen dit ten onrechte nog 'shin splints', een naam die niets zegt over de diagnose terwijl dat juist van groot belang is voor de behandeling en verwijzing. De meest voorkomende oorzaken van de blessure zijn periostitis, tendinopathie, stressfractuur, spierstrain of compartimentsyndroom van de diepe kuitmusculatuur. De huisarts kan de diagnose in de meeste gevallen zelf stellen met behulp van een goede anamnese en lichamelijk onderzoek, zonder dat aanvullend onderzoek nodig is. De risicofactoren voor de klachten zijn meestal goed te vermijden: een te intensieve trainingsopbouw en overmatige pronatie van de voet tijdens het hardlopen. Verwijzing naar sportarts of orthopeed is niet vaak nodig, maar geïndiceerd bij atypische presentatie van de klachten, combinatie van verschillende diagnoses of chronische dan wel terugkerende klachten.