Gepubliceerd in: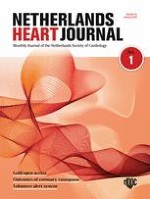 Open Access 29-11-2017 | Editor's Comment
Non-obstructive cardiovascular disease: a new challenge for invasive cardiology?
Gepubliceerd in: Netherlands Heart Journal | Uitgave 1/2018
Evolving knowledge regarding sex differences in coronary heart disease is emerging. Prevalence, symptom manifestation, and pathophysiology of CAD vary between women and men. Cardiovascular mortality is the leading cause of death in women and therefore a better insight into the pathophysiology of CAD is required.