04-12-2017 | Original Article | Uitgave 1/2018 Open Access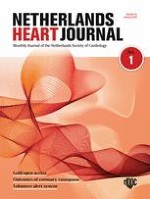 Circumstances and causes of sudden circulatory arrests in the Dutch province of Limburg and the involvement of citizen rescuers
Tijdschrift:
Auteurs:

R. W. M. Pijls, P. J. Nelemans, B. M. Rahel, A. P. M. Gorgels
Abstract
Background
Recently we showed that a citizen volunteer system using text message alerts improves survival of out-of-hospital sudden circulatory arrest (OHCA). It is important to characterise the OHCA population encountered by the volunteers regarding circumstances and causes of the arrests.
Methods and Results
Eligible for this study were 968 OHCAs that occurred between April 2012 and April 2014 in the Dutch province of Limburg. The distribution of causes of OHCA, patient characteristics and resuscitation settings were compared between 492 arrests wherein volunteers were notified and 476 arrests where the dispatcher decided not to do so.
In case of notification, the cause of OHCA was known in 345 cases and of cardiac origin (treatable) in 83.2% (287/345). About 41% of the cardiac arrests were caused by acute or chronic coronary artery disease. OHCA occurred within the home environment in about 84%. The OHCA was witnessed in 75% of the cases. In 60.9% of the cases a witness or bystander had already started basic life support. However, in approximately 18% of the OHCAs the volunteer was the first to start basic life support before arrival of the ambulance. In about 75% of the OHCAs the ambulance arrived at 6 minutes or later after time of notification by the dispatch centre.
Conclusion
The volunteer system is predominantly activated in situations for which it was developed; cases with cardiac aetiology (58%) and cases in the home environment (84%). The majority of patients encountered by the volunteers had 'hearts too good to die', underscoring the benefit of deploying citizen rescuers in programs to improve survival of OHCA.