26-04-2015 | Uitgave 8/2015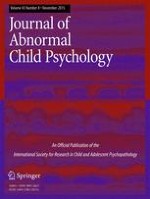 Moderate Childhood Stress Buffers Against Depressive Response to Proximal Stressors: A Multi-Wave Prospective Study of Early Adolescents
Tijdschrift:
Auteurs:

Benjamin G. Shapero, Jessica L. Hamilton, Jonathan P. Stange, Richard T. Liu, Lyn Y. Abramson, Lauren B. Alloy
Abstract
Although the majority of research in the field has focused on childhood stressors as a risk factor for psychopathology, a burgeoning body of literature has focused on the possible steeling effect of moderate types of stressful events. The current study investigated the effects of proximal life stressors on prospective changes in depressive symptoms, and whether a history of moderate childhood adversity would moderate this relationship in a multi-wave study of a diverse community sample of early adolescents (
N
 = 163, 52 % female, 51 % Caucasian). Hierarchical linear modeling was run with four waves of data. Adolescents with greater moderately severe early life events evinced a blunted depressive symptom response to changes in proximal stressful events in the previous 9 months, compared to those with fewer early moderately severe experiences of adversity. These results held after controlling for between-subject factors such as race, gender, severe early life stress, and average stress over the four waves of data. Findings indicate that greater exposure to moderate childhood stressors may buffer against the negative effects of subsequent stressors, suggesting the importance of a nuanced developmental approach to studying the effects of early life stress.