02-06-2016 | REVIEW | Uitgave 5/2016 Open Access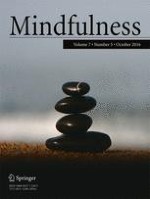 Mindfulness Interventions Delivered by Technology Without Facilitator Involvement: What Research Exists and What Are the Clinical Outcomes?
Tijdschrift:
Auteurs:

James Fish, James Brimson, Siobhan Lynch
Abstract
New cost-effective psychological interventions are needed to contribute to treatment options for psychiatric and physical health conditions. This systematic review aims to investigate the current literature on one potentially cost-effective form of mindfulness-based therapy, those delivered through technological platforms without any mindfulness facilitator input beyond the initial design of the programme. Three electronic databases (Ovid Medline, PsychINFO and Embase) were searched for relevant keywords, titles, medical subject headings (MeSH) and abstracts using search terms derived from a combination of two subjects: 'mindfulness' and 'technology'. Overall, ten studies were identified. The majority of studies were web-based and similar in structure and content to face-to-face mindfulness-based stress reduction courses. Clinical outcomes of stress (
n
 = 5), depression (
n
 = 6) and anxiety (n = 4) were reported along with mindfulness (
n
 = 4), the supposed mediator of effects. All eight studies that measured significance found at least some significant effects (
p
 < .05). The highest reported effect sizes were large (stress
d
 = 1.57, depression
d
 = .95, both
p
s > .005). However, methodological issues (e.g. selection bias, lack of control group and follow-up) which reflect the early nature of the work mean these largest effects are likely to be representative of maximal rather than average effects. Whilst there are important differences in the construction, length and delivery of interventions, it is difficult to draw firm conclusions about the most effective models. Suggestions of key characteristics are made though, needing further investigation preferably in standardised interventions. Given the existing research and the speed at which technology is making new platforms and tools available, it seems important that further research explores two parallel lines: first, refinement and thorough evaluation of already established technology-based mindfulness programmes and second, exploration of novel approaches to mindfulness training that combine the latest technological advances with the knowledge and skills of experienced meditation teachers.