Gepubliceerd in: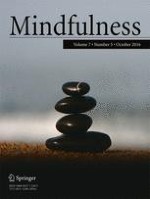 14-05-2016 | ORIGINAL PAPER
The eCALM Trial: eTherapy for Cancer Applying Mindfulness. Exploratory Analyses of the Associations Between Online Mindfulness-Based Cancer Recovery Participation and Changes in Mood, Stress Symptoms, Mindfulness, Posttraumatic Growth, and Spirituality
Gepubliceerd in: Mindfulness | Uitgave 5/2016
Log in om toegang te krijgen
Abstract
Avenues to increase accessibility of evidence-based psychosocial programs that mitigate cancer-related distress and symptoms are needed, and the internet represents one modality garnering research attention. Mindfulness-Based Cancer Recovery (MBCR) is an evidence-based group psychosocial program adapted to an online "real-time" synchronous format. The objective of this study was to assess the effects of participation in online MBCR on patient-reported outcomes in cancer patients. Participants completed questionnaires before and after the online MBCR program. The intervention consisted of eight weekly 2-hour online classes plus a 6-hour retreat. Mixed model analyses for repeated measures were conducted and subgroup analyses investigated associations of age, sex, and cancer stage on patient-reported outcomes. Standardized subscale change score analyses for mood and stress symptom measures were conducted to evaluate relative improvements over time. Sixty-two distressed participants enrolled. Analyses revealed improvements over time on measures of mood, stress, spirituality, posttraumatic growth, and four of five measured mindfulness facets. Relative to older participants, younger participants showed greater improvements in stress symptoms (
p
 = 0.031), spirituality (
p
 = 0.019), and non-reactivity to experience (
p
 = 0.023). Posttraumatic growth increased more over time in men compared to women (
p
 = 0.005). Within mood and stress symptoms subscales, Vigor, Fatigue, and Sympathetic Arousal had the greatest relative improvements, suggesting improved energy while also inducing relaxation. Results are promising in terms of offering an accessible online MBCR approach to help cope with symptoms associated with cancer and its treatment. Further research into differential effects may allow for greater tailoring to further improve access and ease of use.