01-06-2015 | ORIGINAL RESEARCH | Uitgave 3/2015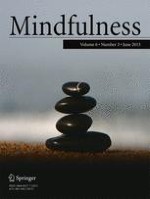 Mindfulness-Based Therapy in Adults with an Autism Spectrum Disorder: Do Treatment Effects Last?
Tijdschrift:
Auteurs:

Michelle Kiep, Annelies A. Spek, Lisette Hoeben
Abstract
Individuals with autism spectrum disorders (ASD) have a higher incidence of comorbid disorders in comparison with other patient groups. Empirical evidence on treatments targeting comorbid symptoms is however scarce. Earlier research showed that mindfulness-based therapy for individuals on the autism spectrum (MBT-AS) is effective in reducing symptoms of depression, anxiety, and rumination. In the current study, it was examined whether MBT-AS is effective in alleviating a variety of psychosomatic symptoms and whether these effects were still evident after 9 weeks. Fifty participants took part in a nine-week MBT-AS training. Self-reported symptoms were evaluated at three intervals: (1) before the first session, (2) after the last session, and (3) 9 weeks after the last session. Results showed that symptoms of anxiety, depression, agoraphobia, somatization, inadequacy in thinking and acting, distrust and interpersonal sensitivity, sleeping problems, and general psychological and physical well-being declined significantly during intervention. Positive affect increased, and rumination declined significantly during treatment. Hostility symptoms did not decline significantly during treatment. All symptoms remained stable between post intervention and follow-up. This would seem to indicate that MBT-AS is effective in reducing psychological and physical symptoms and keeping them stable over the longer term. Furthermore, the outcome indicates that rumination is an important mediating factor. In conclusion, MBT-AS appears to be an effective method for reducing a variety of symptoms, and treatment gains remain stable over the longer term.