14-07-2016 | Uitgave 4/2016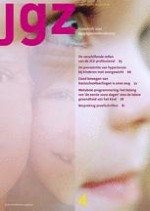 Metabole programmering: het belang van 'de eerste 1000 dagen' voor de latere gezondheid van het kind
Tijdschrift:
Auteurs:

B. Schouten, N. van Winden
Samenvatting
Wetenschappelijk onderzoek laat zien dat omstandigheden rondom de conceptie, zwangerschap en de eerste levensjaren van invloed kunnen zijn op de gezondheid op korte en lange termijn. Metabole programmering is beschreven als een van de processen die hieraan ten grondslag zou kunnen liggen. Dit heeft geleid tot de hypothese dat de periode van conceptie tot ongeveer het tweede levensjaar een kritieke periode is, die mede bepaalt of een kind gezond oud zal worden. Deze cruciale periode van 1000 dagen kan worden gezien als een
window of opportunity
voor preventie en gezondheidsbevordering, met een blijvende positieve invloed op de latere gezondheid. In dit referaat worden onderzoeken besproken waaruit het belang van het proces van metabole programmering blijkt. Dit proces start mogelijk al tijdens de conceptie en wellicht zelfs eerder.