03-03-2017 | Uitgave 2/2017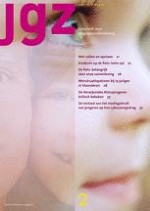 Menstruatiepatroon bij 13-jarigen in Vlaanderen, en de impact van menstruele klachten op de school- en sociale participatie
Tijdschrift:
Auteurs:

K. Hoppenbrouwers, A. Rijkers, M. Roelants, C. Meuleman, K. Van Leeuwen, A. Desoete, J. R. Wiersema, T. D'Hooghe
Belangrijke opmerkingen
Dit artikel is een bewerking van het artikel van Hoppenbrouwers et al. verschenen in Eur J of Pediatrics. 2016;175:623–30. Characteristics of the menstrual cycle in 13-years-old Flemish girls and the impact of menstrual symptoms on social life.
Samenvatting
Tussen maart en juni 2009 ontvingen alle meisjes, geboren in 1996 en op het moment van het onderzoek woonachtig in 8 regio's verspreid over Vlaanderen, in het kader van het Vlaamse cohortonderzoek JOnG! een semigestructureerde vragenlijst met onder meer vragen over de leeftijd van menarche, de kenmerken van hun menstruele cyclus en de eventuele impact ervan op hun sociale activiteiten. Van de 769 respondenten (dat is 15,7 % van de doelpopulatie in de betrokken regio's) had 47,2 % reeds menstruaties. De gemiddelde leeftijd van menarche werd geschat op 12,9 ± 1,3 jaar. Van de 363 meisjes die reeds menstruaties hadden, ervoer 41,6 % (95 % BI 36,4–47,0 %) deze als pijnlijk tijdens de afgelopen 3 maanden. Uit het onderzoek blijkt een significante correlatie tussen pijnlijke menstruatie enerzijds (dysmenorroe), en jongere menarcheleeftijd (
p <
.05) en meer overvloedige menstruatie (
p <
.001) anderzijds. Bovendien ervoer één op vier 13-jarige meisjes een negatieve impact van menstruaties op hun schoolparticipatie en deelname aan sociale activiteiten. Deze proportie is echter significant groter bij meisjes met dysmenorroe (41,3 %) dan bij meisjes die hun menstruaties hebben zonder noemenswaardige klachten (14,2 %) (RR = 2,9; 95 % BI, 2,0–4,4;
p
< .001). Uit de resultaten van deze studie blijkt dat menstruatie-gebonden klachten frequent voorkomen bij jonge tienermeisjes, wat aandacht verdient vanwege jeugdgezondheidszorg.