16-05-2019 | Original Article | Uitgave 3/2019 Open Access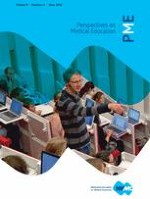 Learning environment, stress and coping in psychiatry residents within a national training program: a longitudinal study
Tijdschrift:
Auteurs:

Qian Hui Chew, Eric Holmboe, Kang Sim
Abstract
Introduction
Perception of one's learning environment is associated with academic performance and well-being of medical students. Yet, few studies have explored learners' perceptions and their correlates within a postgraduate environment. This study examined longitudinal changes in learning environment perception, perceived stress and coping for psychiatry residents in junior and senior years of training. Based on extant social learning theories, we hypothesized that learning environment perceptions will improve with seniority, and be accompanied by lower stress levels and better coping.
Methods
Eighty-two out of 101 psychiatry residents (81.2%) from our National Psychiatry Residency Program rated their perception of learning environment, perceived stress, and coping strategies from June 2016 to June 2018. Correlations between these variables, and changes across five timepoints were examined.
Results
Senior-year residents reported better perception of learning environment over time, together with increased use of problem-focused coping and lowered perceived stress levels. Junior-year residents reported no changes in learning environment perception and coping strategies, despite rating greater perceived stress levels over time. Perception of learning environment negatively correlated with perceived stress levels and specific coping strategies.
Discussion
Based on these findings, we suggest specific strategies with the emphasis on context, participation, and social interaction within a community of practice to better support residents in training, which are applicable to other similar training programs.