12-12-2017 | Uitgave 2/2018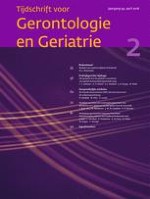 Kwaliteit van leven van verpleeghuisbewoners met dementie voor, tijdens en na het spelen met de tovertafel
Tijdschrift:
Auteurs:

Leonie Bruil, Marian J. M. Adriaansen, Judith W. M. Groothuis, Ercolie R. Bossema
Samenvatting
De 'Active Cues Tovertafel' is een nieuw spelconcept binnen de verpleeghuiszorg. Het bestaat uit lichtanimaties die op een eettafel worden geprojecteerd en reageren op bewegingen van de spelers. Het doel van dit exploratieve, quasi-experimentele onderzoek was om de kwaliteit van leven van verpleeghuisbewoners met matig ernstige of ernstige dementie na te gaan voor, tijdens en na het spelen met deze tovertafel. De kwaliteit van leven werd nagegaan middels de Qualidem en de DS-DAT. Van de 34 geïncludeerde verpleeghuisbewoners was 62 % vrouw en de gemiddelde leeftijd 86,5 jaar (standaarddeviatie 6,2). De Qualidem liet een kleine tot middelmatige verbetering zien tot in de week ná het spelen met de tovertafel in 'negatief affect', 'rusteloos gespannen gedrag' en 'positief zelfbeeld' (
p
≤ 0,04). De DS-DAT liet tot een uur na het spelen een matige verbetering zien ten opzichte van een kwartier voor het spelen (
p
< 0,001). Concluderend, tot in de week na het spelen met de tovertafel lijkt sprake te zijn van een betere kwaliteit van leven bij verpleeghuisbewoners met matig ernstige of ernstige dementie. Vervolgonderzoek is echter nodig om de resultaten van dit exploratieve onderzoek te bevestigen en na te gaan of de verbeteringen daadwerkelijk aan de tovertafel kunnen worden toegeschreven.