01-03-2010 | Uitgave 6/2010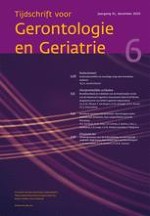 Kwaliteit van leven bij dementie
Opvattingen onder mensen met dementie, hun zorgverleners en in de literatuur
Tijdschrift:
Auteurs:

Mw. dr. D. L. Gerritsen, R. M. Dröes, T. P. Ettema, E. Boelens, J. Bos, L. Meihuizen, J. de Lange, C. J. M. Schölzel-Dorenbos, F. Hoogeveen
Belangrijke opmerkingen
Tijdschr Gerontol Geriatr 2010; 41: 241–255
Samenvatting
In de literatuur worden verschillende definities van 'kwaliteit van leven' gevonden. Dit roept de vraag op welke domeinen als belangrijk worden gezien door mensen met dementie zelf. In een exploratieve studie werden de meningen van mensen met dementie (thuiswonend en verblijvend in verpleeghuizen) vergeleken met die van professionele zorgverleners en met meetinstrumenten voor kwaliteit van leven bij dementie. Gegevens werden verzameld door middel van interviews, focusgroepen en literatuurstudie. De meeste kwaliteit- van-levendomeinen die door mensen met dementie belangrijk werden gevonden, werden ook genoemd door de professionele zorgverleners en gevonden in meetinstrumenten. Sommige domeinen werden echter niet genoemd door professionals ('gevoel voor esthetiek', 'financiële situatie', 'nuttig zijn/zingeving' en 'spiritualiteit') of niet gevonden in de meetinstrumenten ('veiligheid en privacy', 'zelfbeschikking en vrijheid', 'nuttig zijn/ zingeving' en 'spiritualiteit'). Dit wijst op mogelijke verschillen in perspectief tussen mensen met dementie enerzijds en hun zorgverleners en onderzoekers anderzijds. Vervolgens is onderzocht in hoeverre professionals zich richten op de kwaliteit-van-levendomeinen die mensen met dementie belangrijk vinden. Zorgverleners van 29 afdelingen en 3 dagbehandelingen van 13 verpleeghuizen en 12 ontmoetingscentra vulden een vragenlijst in (N=374). Zij gaven aan zich tenminste in enige mate te richten op de meeste domeinen die als relevant werden genoemd door mensen met dementie, maar in beperkte mate op 'financiële situatie' en 'nuttig zijn/ zingeving'. Zorgverleners die betrokken zijn bij dagbesteding richtten zich meer dan zorgverleners die 24-uurszorg leveren op de domeinen 'gehechtheid', 'plezier in activiteiten', 'gevoel voor esthetiek in leefomgeving' en 'nuttig zijn, zingeving'.
Dit artikel is een vertaling en samenvoeging van de volgende eerder verschenen artikelen: Dröes RM et al. Quality of life in dementia in perspective; an explorative study of variations in opinions among people with dementia and their professional caregivers, and in literature. Dementia: The International Journal 2006; 5 (4): 533–558.
Gerritsen DL et al. Differences in perspective: do professional caregivers focus on the Quality of life domains that are important for people with dementia? American Journal of Alzheimer's Disease and Other Dementias 2007; 22:176–183.